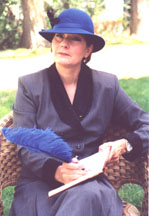 Margaret-Maevis Claudia Sharp was born "…some considerable time ago" on a houseboat along the Mississippi River in Northern Illinois. Raised by her grandparents, she learned early how to stick to a horse, spent most of her early cattle years working with registered Hereford and Angus, and became a crack shot by the age of 8. She makes the worst coffee west of the Mississippi River, and it has been reported that you don't want to feed her biscuits to your good cow dog. Before following her dream of writing and designing greeting cards, Maggie Mae spent 30 years writing poetry about the creatures and the land she loves before becoming brave enough to perform in public in Elko, NV without suffering "…Imminent heart failure". She now shares her original cowboy poetry with audiences all over the country as she spins her rhyming tales about cowboys, men and women, how and why they love the land they caretake, and about a way of life that is slowly dying – in her spare time, that is. And, she has made it one of her highest priorities to reeducate the public about the fact that women were also very much there in the settling of the American West, as "cowboys", ranchers, sheriffs, bank robbers and the like, right alongside the men, every step of the way.
"…We're not better cowboys", she says of women, "…We were just there, too, and a proven necessary part of the settling of the West. Great-Grandma had to be able to do whatever Great-Grandpa would do around the homestead, six-guns and all, and with a baby on her hip, to boot. People forget that."She can make you laugh until your sides hurt, or cry – all the while believing that you're right there on that windswept knoll more than 100 years ago. From her side-splitting poems of ranch humor to the hauntingly beautiful tale of "The Huntress", Maggie Mae manages to hold her audiences spellbound time after time. And, whether laughing or crying, she will always make you feel. Maggie Mae has produced six albums to date: The Huntress, Hookers Gone Outlaw, Huntress II….Legends Only, A Little Piece of Maggie's Heart, and on her album released in 1998, Take the Long Way Home, the title poem dramatically tells the story of women on the wagon trains that headed West. There is also a 3-album set, One Woman's Voice, and a lovely pink chapbook, Tales of a Mail Order Bride.
Recently, her newest book The Huntress, (now in its 4th printing), was nominated for a Wrangler Award from the National Cowboy Hall of Fame and was also nominated for 1997 Book of the Year from the Academy of Western Artists. Within 48 pages beautifully illustrated in pen & ink, the chapbook book tells the haunting tale of a lady bounty hunter in 1875, and also serves as the outline for her novel-in-progress of the same title. And her latest album, Precious Little Wisdom from Maggie Mae, features the BEST of Maggie Mae. She Began her performance career in Elko, NV, and since then she has performed all over the United States. She is also a renowned public speaker and guest lectures in university-level Women's Studies programs on self-esteem issues and ranching-related conventions "in the rest of her spare time".
In early 2001, Maggie's Quill, Inc. incorporated – and released the Dear Sweet Memories™ line of greeting cards. This line includes 164 images to date, featuring antique photographs replete with identifications and dates, embossed photo corners & die-cuts, using the highest quality recycled papers available. Maggie's Quill, Inc. currently boasts 29 different lines on the drawing table, which include more than 500 greeting cards. Lines including: Precious Little Wisdom from Auntie Mae™, Wildflowers and Everyday Divinity™ will release in the Spring of 2002, so keep watching us grow! And we mustn't forget her hats……. an avid fan of the haute couture of the 1930′s & 1940′s, you will seldom find Miss Maggie Mae Sharp not sporting one of her trademark 'dipped-over-one-eye' vintage hats. One of her best-selling DSM cards challenges one to 'First, find your passion…' …and so she did.
Maggie is currently mentoring two artists. Check out their progress on the Mentorship Program page.